BETA Records Site Gives Its Music Community Users the Ability to Earn Ad Dollars
HOLLYWOOD, Calif. — BETARecords.com, the fast growing online music social community along with its upcoming Beta Records TV show, has announced the launch of the first known peer-to-peer community advertising technology internally tagged by the team as "DAAN" – Dynamic Affinity Advertising Network. DAAN (patent applied for) allows any BETA Records community user to select and drag up to three ad modules onto their profile page, launching a simple interface to promote and charge a cost per impression (CPM) rate based upon traffic and reputation stats provided by BETA to each respective user's profile page.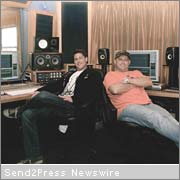 The placement of the ad unit is also unique in that the user can drag and position the empty ad unit anywhere in the profile page to make for a more desirable look and user experience. "At the end of the day, the user should decide what type of advertisement they want to appear on their profile page, where it goes, and the price per CPM, subsequently keeping up to 85% of the ad revenue. Our independent artists are creating massive digital brands and bringing their traffic to our community – they are entitled to decide what ads they have an affinity for and share in the profits," states Christian Honetschlaeger, President.
Using DAAN, any company or user can then locate the most popular profiles/people in the BETA community and request that their ad artwork be inserted into the module. Immediately, an alert is sent via email and internal messaging. Once the request is accepted, the ad unit is locked into place and goes live, paying out ad revenue in real time within hours to the host.
"DAAN is an incredible feature for us and we are excited to launch, test and license this new technology as a complete system for peer-to-peer advertising," said Rock Mutchler, CEO. "BETA's backbone eWallet system protects both the publisher of the ad unit and the advertiser by making payments in real time against their available 'BETA bucks,' allowing users to place a cap on their spend – once the money is gone the current ad dissolves and the next in the queue appears automatically."
After local testing is complete on http://www.BETARecords.com, DAAN should be available for 3rd party licensing in early 2009.
[tags]BETA Records LLC, CEO Rock Mutchler, online music social community, BETA Records TV, indie music television, Dynamic Affinity Advertising Network[/tags]