Best Service Announces Virtual Accordion Library
Muenchen, Germany (MuseWire) – Best Service today announced the launch of Best Service managed to win over "Tari" Eduardo Tarilonte to produce this fantastic virtual accordion! Though we start to ship Accordion out into the world from Munich, right during Oktoberfest, this product has nothing to do with Lederhos'n and Bavarian umm-tah-tah. Tari has created a masterpiece with "Accordion."
From Celtic music to circus bandoneon, from TexMex to Paris, from South American Tango to Austrian Folk, this is the library for everyone. Do not miss the excellent sound and video demos, they give more than an idea what Accordion can do. Kontakt Player 3 included. No sampler required.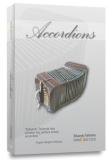 Produced by Eduardo Tarilonte, Accordions is the definitive accordion sample library. Designed and scripted to perform in real time ultra-realistic accordion melodies and chords. All the subtle sounds from an accordion have been carefully captured to increase the realism of your performance, like key and button noises.
8 different Accordions where sampled in high detail, being one of them a real A-A (Alfred Arnold) Bandoneon from the 1930´s with an incredible tone. Just the same model Astor Piazzolla used. Also included are 8 perfectly balanced Multis with meticulously made combinations to create new ready to use registers.
Accordions can be used in many different kind of productions and styles. From cinematic, romantic to folk styles like Celtic, Tex-Mex or South American.
This library includes:
7 complete independent instruments sampled with amazing depth plus 1 bonus accordion:
Bandoneon
Concertina
Single Reed Piccolo Accordion
Single Reed Musette Accordion
Single Reed Bassoon Accordion
Double Reed Musette Accordion
Left Hand Bass Accordion
Steirische Accordion (Bonus)
8 perfectly balanced multis with fine tune combinations to create new ready to use registers:
Oboe Register
Celeste Register
Bandoneon Register
Organ Register
Triple Musette Register
Harmonium Register
Master Register
Accordion Register
3 round robin playback in each crossfade layer
Realistic instruments noises to create an unparalleled realism. Advanced but easy to use Kontakt scripting signed by Günter Hirscher. 2.7 Gb – 44.1 Khz – 24 bits wav mono samples. Kontakt Player 3 included. No sampler required!
System requirements
PC
Pentium or Athlon 1.4 GHz
Windows XP or Windows Vista
Mac
G4 1.4 GHz or Intel® Core™ Duo 1.66 GHz
OS 10.4.x
for all
300 MB free disc space for player installation
additional hard disc space according to the library size
DVD drive.