BEHRINGER SX Series Mixers – Next Generation Analog Studio/Live Consoles
BOTHELL, Wash. — BEHRINGER updates its EURODESK line of mixers with the new SX series of recording and live sound consoles. First to arrive are the SX2442FX twenty-four channel and SX3242FX thirty-two channel mixers. The SX series is designed to meet the needs of studio and live mixing applications, with a comprehensive set of features that combine sonic excellence and a full complement of mixing & sound modification tools. Each four-bus mixer features ultra-low noise, high-headroom XENYX microphone preamps. Mono input channels feature three-band, semi-parametric mid-range EQ with Neo-classic "British" response. Stereo input channels provide precise four-band equalization. Each input has four aux sends; with two sends switchable between pre/post fader, for a flexible mix of monitor and effects applications.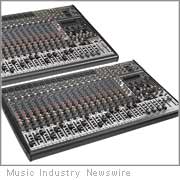 External signal processing racks can be largely eliminated, thanks to the SX Series' two integrated effects processors and stereo 9-band graphic EQ. One-hundred 24-bit / 96kHz studio-quality effects presets can be called-up and assigned to one or both internal effects buses. Main or Monitor output EQ is set and fine-tuned with the intuitive FBQ Feedback Detection display.
When external processing is required, the SX Series provides extensive insert patch-points for input channels and main outputs. The Master section offers a wealth of features such as multiple aux and stereo returns, switchable SIP / PFL monitoring, Talkback, metering and more.
An internal auto-ranging power supply (100 – 240V), gold-plated XLR output connectors and rugged steel construction ensure that the SX Series consoles will travel anywhere to tackle any recording or mixing task, with pristine audio quality and a minimum of external gear.
* Premium ultra-low noise, high-headroom analog mixer
* 16/20 state-of-the-art XENYX Mic Preamps (SX2442FX/SX3242FX)
* Two/four stereo input channels with 4-band EQ plus 2 additional stereo input channels with Level and pre-fader Aux controls (SX2442FX/SX3242FX)
* Neo-classic "British" 3-band EQs with semi-parametric mid band
* Two independent studio-grade 24-bit stereo FX processors with 100 presets including reverb, chorus, flanger, delay, pitch shifter and various multi-effects
* High-precision 9-band stereo graphic EQ for monitor or main mixes
* FBQ Feedback Detection system
* Peak LEDs, Mute, Main mix and subgroup routing switches, Solo and PFL functions on all channels
* Inserts on each mono channel and main mix for flexible connections to outboard processors
* 4 Subgroup outputs and additional Mono output with sweepable Low Pass filter for subwoofer application
* 4 Aux sends per channel: 2 pre/post fader switchable for monitoring/FX applications, 2 post fader (for internal FX or as external send)
* Balanced Main mix outputs with 1/4″ jacks and gold-plated XLR connectors, separate Control room, Headphone and stereo Tape outputs
* Solo-In-Place and Pre-Fader-Listen functions plus full-featured Talkback section
* Standby switch mutes all channels during breaks while background music is provided via CD/Tape inputs
* Long-wearing 60 mm logarithmic-taper faders and sealed rotary controls
* Internal auto-ranging power supply for maximum flexibility (100 – 240 V~), noise-free audio, superior transient response plus low power consumption for energy saving
* High-quality components and exceptionally rugged construction ensure long life
[tags]BEHRINGER EURODESK SX3242FX mixers[/tags]