AuviTran Introduces Audinate's Dante Protocol in Its Audio Toolbox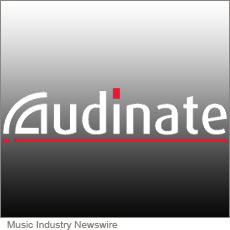 Meylan, France and Portland, Ore. (MuseWire) – AuviTran, the Audio networking specialist, and Audinate, the inventors of the award winning Dante media networking solution, announces today it is adding Dante technology to its Audio Toolbox product range. Audinate was chosen to accelerate AuviTran's development towards new networking technologies.
"The integration of Dante technology into our product portfolio will allow AuviTran to address market's demands for new network interoperability. Dante offers our customers a smart path to AVB. AuviTran is continuously and consistently expanding its product offer in terms of powerful and versatile networking solutions," says Yves Ansade, AuviTran's Managing Director.
Audinate is leading the way networks are connected by transporting high-quality media over standard IT networks. Its Dante products deliver a no-hassle, self-configuring, true plug-and-play digital audio network that uses standard Internet Protocols. Dante offers a market leading solution today, while de-risking the future by providing a migration path to upgrade to new standards such as the IEEE Audio Video Bridging ("AVB").
"We are glad to contribute to the convergence of audio networking technologies and share our expertise with AuviTran," states Lee Ellison, Audinate's CEO. "Auvitran is one of the more experienced implementers of audio networking technologies, so this agreement is a strong recognition of the market momentum of Dante."
Thanks to the new AuviTran product range, audio professionals can now use a playful Audio ToolBox to connect various types of interfaces (Analog Line, Microphone, AES-EBU, MADI, ADAT™…) or bridge different audio network technologies. "This is an exciting opportunity for our customers to build their own tailor made products, regardless of the technologies they want to use or the product they want to plug in. We will supply the tools and they will use their talents," adds product development manager Jeremie Weber.
AuviTran's AxC-DANTE interface card will be presented during PL+S 2012. Hall 8 Booth B19
About AuviTran
Since 2003 AuviTran has provided audio professionals with innovative networking solutions, using EtherSound technology. With almost 30000 audio network devices supplied worldwide and a unique audio network cross brand control software, AuviTran benefits of a wide knowledge and presence on the Audio Pro market.
About Audinate
Audinate revolutionizes the way that AV systems are connected by transporting high-quality media over standard IT networks. Using Audinate's patented Dante networking solution, digital media networking just got easy. Audinate's solution has been licensed by customers across the AV industry and can be found in installations and live sound applications globally. Audinate is a Promoter Member of the AVnu Alliance™. Audinate offices are located in US, United Kingdom and Australia. Dante is a trademark of Audinate Pty Ltd.