Author and Singer Dee Dee Phelps Introduced at the Book Publicists of Southern California Awards Dinner
LOS ANGELES, Calif. — Dee Dee Phelps, author of "Vinyl Highway," singing as Dick and Dee Dee in the Sixties (www.dickanddeedee.com) was introduced to a sold out audience by Book Publicists of Southern California founder Irwin Zucker, with comedian Fred Travalena and game show host Wink Martindale, at the 12th Annual IRWIN Awards dinner and program for Book Publicists of Southern California on October 11th in Studio City, California.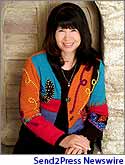 From August 21st through October 15th, Dee Dee Phelps has been interviewed on over 22 radio shows across the United States, including AM, FM and internet radio. She appeared on the cover of the August 15th issue of Radio, Television Interview Report. Her speaking expertise covers behind-the-scenes commentary of rock and roll touring during the Sixties, where she performed as half the Warner Brothers Records recording duo, Dick and Dee Dee.
In "Vinyl Highway," a coming of age memoir, Dee Dee uses interesting detail, hilarious scenes, poignant moments and great stories to create page turning moments from beginning to end. How Dick and Dee Dee achieves instant stardom, maneuver their way through some sleazy situations, plots the next course of action and try to stay in the game even though tastes "they are a changin'," creates an all too human story.
Working with upcoming kid bands, like the Beach Boys, and recording on Rolling Stones tracks in London, when the duo accidentally bumps into the Stones producer, Andrew Loog Oldham, are but a few of the never before told celebrity stories included in Vinyl Highway. After reading her book, the majority of feedback received unanimously agrees that "Vinyl Highway" should be made into a movie.
Book Summary
Title: Vinyl Highway
Author: Dee Dee Phelps
Memoir-Narrative Non Fiction
IBSN: 1-4120-7383-9, Pages: 340
Publication Date: February 2006
Price: $19.99 Autographed – Limited Offer at http://www.dickanddeedee.com .
Also available at Amazon.com
[tags]Vinyl Highway, Dee Dee Phelps, Dick and Dee Dee, music history[/tags]