Audio Networking Company Audinate Raises Additional $4 Million in Funding to Fuel Growth
SYDNEY, Australia /MuseWire/ — Audinate Pty Ltd, a leading developer of digital media networking solutions, announced it has secured $4 million in additional funding. The latest investment round was led by existing investors, Starfish Ventures and Innovation Capital. Audinate is making traditional analog cabling obsolete in favor of TCP/IP-based networking technology. Dante™ provides a high performance media transport that is tightly synchronized, with sub-millisecond latency.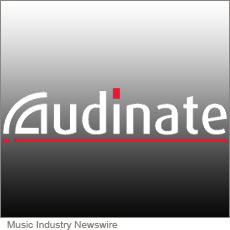 Audinate's digital networking solution reduces cost by eliminating the need for expensive, bulky copper analog wires. With Audinate, one Cat-5 Ethernet cable can replace 500 analog connectors thereby eliminating massive amounts of cabling from large installations. Equally important is that Audinate's Dante™ networking solution is a true plug-and-play solution because devices and channels are automatically discovered and easy to program.
Audinate's solution has been widely adopted by the leaders of the A/V industry. Audinate has developed alliances with major OEM partners including Bosch, Yamaha, Peavey, Dolby, and Lab.gruppen. "Over the past three years Audinate has transformed how high quality media networks are deployed by using standards based IT networking. These industry leaders are at the forefront of driving network convergence of A/V and IT infrastructure," stated Lee Ellison CEO of Audinate. "This investment will allow Audinate to continue to expand our global sales and support organizations, and accelerate development efforts to support our rapidly expanding customer base."
"Audinate has created the world's first truly compliant IP over Ethernet networking solution for the professional and installed Audio Visual industry," said Michael Panaccio, Investment Principal of Starfish Ventures. "Audinate's management team has consistently delivered on transforming its unique technology into a great global business."
"Audinate has been widely recognized for its superiority in delivering a highly scalable, low latency media distribution network which significantly reduces costs of cabling and simplifies installations," stated Roger Price, General Partner of Innovation Capital. "We have been extremely impressed with the momentum of adoption among the major OEMs who have committed to implementing Audinate's solution."
About Audinate
Audinate revolutionizes the way that AV systems are connected by transporting high quality media over standard IT networks. Using Audinate's patent pending networking solution, digital media networking just got easy. Audinate's solution has been licensed by customers across the AV industry and can be found in installations, live sound, recording and broadcast applications globally. Audinate offices are located in the United States and Australia.
More information: http://www.audinate.com .