Audinate's Dante Networks the Queen's Diamond Jubilee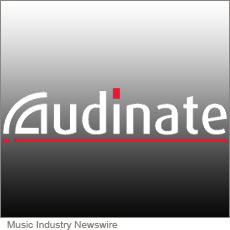 PORTLAND, Ore. (MuseWire) – Last month millions turned out in London, England, to mark Queen Elizabeth's 60 years on the throne. Not since Queen Victoria's Diamond Jubilee 1897, has Great Britain celebrated a monarch's 60th anniversary. Needless to say an event of this magnitude required a reliable and flexible networking transport, and Audinate's award winning technology Dante™ was chosen as the digital media network backbone for all the live sound events and festivities.
Audio production house Britannia Row Productions was responsible for all the live sound. Joshua Lloyd was the system designer who designed the sound system (that needed to be invisible) for the seated invited audience around the temporary stage constructed on the Queen Victoria Monument. "It was necessary to create a large distributed system to achieve this goal" comments Lloyd. "We used 24 stacks of Outline Butterfly loudspeakers, for a total of 96 boxes, to create this complex system. Each stack of Butterfly's was driven by a Lake LM series processor, and all were networked together using off-the-shelf Cisco switches over a standard IP network."
The mammoth sound system consisted of 100's of cabinets and over 4 square miles (6.5km) of fiber optic cabling. Naturally a system of this size required a large matrix solution. Two Yamaha DME 64N units equipped with Dante-MY16-AUD networking cards were deployed; these in turn were connected to 6 XTA Dante Breakout boxes as well as the 48 LM series processors.
Audinate is leading the way networks are connected by transporting high-quality media over standard IT networks. Its Dante products deliver a no-hassle, self-configuring, true plug-and-play digital audio network that uses standard Internet Protocols.
Lloyd concludes, "This system could not have worked on analog, as the distances involved were so great, and the interference from every kind of signal and power cabling would have seriously damaged the audio quality. Single mode fiber optic cabling was the only viable solution, and the sheer number of nodes required meant that using Dante Audio over IP was the simplest, most cost effective way to achieve this. "
Lee Ellison, Audinate's CEO adds, "Everyone at Audinate is very proud to have been involved as a part of this moment in Great Britain's history. As far as I know, this event was one of the largest crowds of people to ever hear audio over a Dante digital media network. "