Audinate to Co-Sponsor AES 44 Audio Networking Conference in San Diego
PORTLAND, Ore. (MuseWire) – Audinate will be a co-sponsor at this year's Audio Engineering Society's 44th International Conference on Audio Networking. Audinate is the creator of Dante, the leading audio over IP media networking solution for the Pro Audio/Visual (A/V) industry. The conference is being held from November 18-20 in San Diego, California and is anticipated to be the largest event to date on audio networking.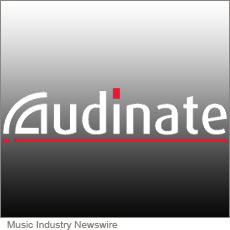 AES 44 features 17 papers on diverse topics related to networked audio, including five panel discussions industry veterans, plus three major technology demonstrations highlighting audio network control protocols, distributed performance, and a networked post-production master class. Audinate's Dante networking will be demonstrated during the event.
Dante is recognized for delivering a tightly synchronized, low latency media network over standard TCP/IP network infrastructure. Audinate's CTO Aidan Williams will speak on topics such as product design and control protocols. Says Williams, "Dante shall remain the industry-leading media networking solution and that also includes support for AVB. Williams adds, "People choosing Dante as a "future proof" solution are expressing confidence in Audinate's ability to deliver an easy to use media networking system supporting AVB."
Conference chair Nathan Brock remarks "The conference is the best chance to learn about audio networking from the engineers who are designing and building the devices currently in use, as well as the next generation of networking technologies." Social events include tours of the audio, visualization, and networking facilities of the University of California, San Diego, which is hosting the conference and banquet for all participants.