Audinate Releases Mac OS X Lion Compatibility for Dante Virtual Soundcard
Portland, Ore. /Music Industry Industry/ — Audinate announces that it has completed support for both Windows and Mac 64 bit operating systems with the availability of Dante Virtual Soundcard for Mac OSX 10.7 Lion. The Dante Virtual Soundcard software allows your computer to connect directly to a Dante audio network. Dante Virtual Soundcard uses the Ethernet port on the computer to communicate with a network of other Dante enabled devices. No special hardware is required other than installing Dante Virtual Soundcard on a conventional computer or laptop.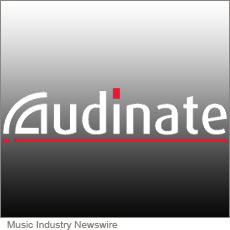 The Dante Virtual Soundcard can transmit and receive up to 64 channels between networked audio equipment and popular audio applications such as Nuendo, Cubase, Logic and Pro Tools 9. These audio applications use the Dante Virtual Soundcard as they would any standard ASIO or Core Audio sound card.
The Dante Virtual Soundcard has no physical audio inputs or outputs. Instead, audio signals are sent directly to or received from the PC's Ethernet network interface card.
Mary Cudmore, Director of Products remarks, "We've seen a substantial increase in the use of the Dante Virtual Soundcard and now having compatibility with Lion will open the way for more users to access the power of the application."
Dante Virtual Soundcard V3.2.0 for MAC OSX 10.7 is now available as a download at www.audinate.com
About Audinate
Audinate revolutionizes the way that AV systems are connected by transporting high-quality media over standard IT networks. Using Audinate's patented Dante networking solution, digital media networking just got easy. Audinate's solution has been licensed by customers across the AV industry and can be found in installations and live sound applications globally. Audinate is a Promoter Member of the AVnu Alliance™. Audinate offices are located in US, United Kingdom and Australia. Dante is a trademark of Audinate Pty Ltd.
Visit www.audinate.com for the latest news and information on the company.