Audinate Launches Dante Ultimo OEM Solution for Integrated Networked Audio over IP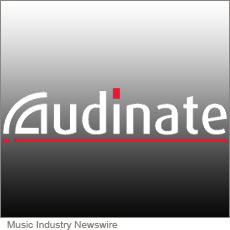 PORTLAND, Ore. (MuseWire) – Audinate is proud to announce the newest member of the Dante product family: Ultimo. Ultimo is a complete, fully-featured, ready-to-use Dante interface for networked audio products, integrated into a single 13 x 13mm chip. By providing an integrated, cost-effective networked audio solution over a 100Mbps Ethernet interface, Ultimo extends the benefits of Dante networking to a wide new range of audio devices. Audinate, a company recognized for innovation in digital media networking, has created the industry's most economical networked audio solution, enabling manufacturers to design cost-effective Dante products for the edge of the network.
Dante is the most interoperable, easy-to-use digital network solution available. Dante is licensed by over 70 OEM manufacturers, and Dante networked devices are currently being designed into hundreds of AV OEM products. Ultimo delivers a low-cost, small-footprint solution without sacrificing audio quality. As with Audinate's other networked products, Ultimo uses high-quality, low-jitter clocks with ±1?s time alignment between networked devices. Ultimo does not require specialized switches, and works with existing network infrastructure.
Ultimo includes well-established Dante features like automatic device discovery, plug-and-play networking, network-based firmware updates, and customization of device names and channel labels.
"The Ultimo integrated chip solution accelerates the migration from analog to digital signal distribution," says Gary Southwell, Audinate's Vice President of Product Management. Southwell adds "Ultimo allows our OEMs to achieve their desired cost targets for networked low channel count endpoints for the first time. Ultimo is already a success, and is actively being designed into commercial products by many of the industry's largest and most recognized AV OEMs."
Applications targeted for Ultimo include powered speakers, microphones, speakerphones, amplifiers, paging stations, personal monitoring systems, AV wall plates, recording interfaces, analog/digital break-in/break out, and musical instruments.
Product development kits are available now.
About Audinate:
Audinate revolutionizes the way that AV systems are connected, by transporting high-quality media over standard IT networks. Audinate's patented Dante media networking technology has been adopted by over 70 OEM manufacturers in the professional audio/visual industry. Dante is used extensively for live performance events, commercial installation, broadcast, recording and production, and communications systems. Audinate is a Promoter Member of the AVnu Alliance™. Audinate offices are located in US, United Kingdom and Australia.