Audinate Expands Worldwide Team, Steve Greenall joins Audinate as Director of Sales for EMEA and ASEAN countries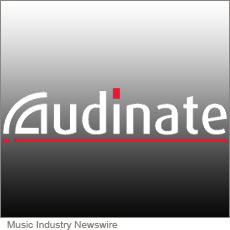 PORTLAND, Ore. (MuseWire) – In order to support the proliferation of Audinate's Dante media networking solution across the AV industry, Steve Greenall has joined Audinate as Director of Sales for Europe. Greenall, who resides in the UK, will also be responsible for leading sales activities in the Middle East, Africa and ASEAN countries.
"Over the past few years, I have been extremely impressed with the rapid adoption of Dante and how Audinate is universally recognized for delivering the most complete AV media networking solution available" says Greenall." I am thrilled to help contribute to Audinate's growth going forward."
Steve has over 25 years professional sales experience, with the last 13 years focused directly in the A/V industry. Steve recently was Sales Director of VBrick in the UK, a leading provider of IP Video streaming solutions. Prior to that, Steve was the Business Development Director for AMX in the UK. AMX develops solutions for IT/AV managers to centrally monitor and manage AV devices and building systems technology.
"The convergence of AV and IT continues at an incredible pace," says Lee Ellison, CEO of Audinate. "Steve brings to Audinate, and our customers, a diverse range of experience across AV, IT, and networking fields. We are thrilled to have someone who can closely relate to the requirements of our OEM manufacturer's products, and at the same time, have such a strong understanding of the needs of AV consultants and installation contractors."
Audinate's Dante solution is media networking perfected. Dante provides high performance digital media networking has become the solution of choice among OEMs and AV designers, because it delivers tightly synchronized, sample-accurate playback, while simplifying installation and configuration of AV networks. Based on IP standards, Dante meets the quality and performance requirements of professional live sound, AV commercial installations and broadcast plus recording systems. Dante has been licensed by over 70 OEM customers across the AV industry.
About Audinate:
Audinate revolutionizes the way that AV systems are connected, by transporting high-quality media over standard IT networks. Audinate's patented Dante media networking technology has been adopted by over 70 OEM manufacturers in the professional audio/visual industry. Dante is used extensively for live performance events, commercial installation, broadcast, recording and production, and communications systems. Audinate is a Promoter Member of the AVnu Alliance™. Audinate offices are located in US, United Kingdom and Australia. Visit www.audinate.com for the latest news and information on the company. Dante is Digital Media Networking Perfected.
Dante is a trademark of Audinate Pty Ltd. Audinate is a registered trademark of Audinate Pty Ltd.