Audinate Expands Executive Leadership Team, adds John McMahon as their new Vice President Worldwide Sales and Support
PORTLAND, Ore. (MuseWire) – Audinate, a leader in IP media networking solutions, announced today the hiring of John McMahon as their new Vice President Worldwide Sales and Support. In his capacity, John will be responsible for expanding Audinate's sales and customer support organizations. Previously, John McMahon has held various leadership positions in the field of networking and Audio-Visual companies over the past 25 years.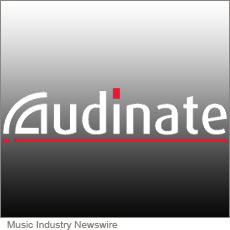 He formerly held the position of COO and EVP at Network Engineering Technologies, Inc. and also served as VP of U.S. Markets for Polycom, Inc. where he was responsible for 28% of the company's worldwide revenues. Prior to joining Polycom, McMahon's experience spanned a variety of strategic sales management roles with companies including Cisco Systems, Coppercom, The Wollongong Group and Vertical Networks.
"Audinate is positioned for significant growth with the industry adoption of its patented Dante media networking solution. Customers recognize that Dante offers a market leading solution today, while also providing a migration path to upgrade to new standards such as the emerging IEEE Audio Video Bridging ("AVB") standard." stated John McMahon.
"John's strong track record for developing strategic sales, and building successful networking companies, will be enormously beneficial to Audinate's expansion." stated Lee Ellison, CEO of Audinate. "We're confident John's addition to our management team, will dramatically accelerate our growth in the industry."
Mr. McMahon graduated from Texas Tech University and The University of Chicago Booth School of Business.
About Audinate
Audinate revolutionizes the way that AV systems are connected by transporting high-quality media over standard IT networks. Using Audinate's patented networking solution, digital media networking just got easy. Audinate's solution has been licensed by customers across the AV industry and can be found in installations and live sound applications globally. Audinate is a Promoter Member of the AVnu Alliance™. Audinate offices are located in US and Australia.