Audinate Elects David Krall as Chairman of the Board
Sydney, Australia (MuseWire) – Audinate Pty Ltd, the leader in IP audio-visual media network solutions, has elected David Krall as chairman of its board of directors. His election as chairman comes at a time of rapid growth for Audinate, completing its most recent fiscal year (ending June 30, 2011) with almost double its revenues from the prior year. Krall originally joined Audinate's board of directors earlier this year.   Mr. Krall also currently serves as Executive Chair of QSecure in addition to serving on the board of directors of Progress Software (NASDAQ: PRGS).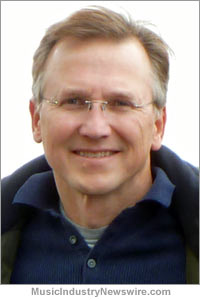 David Krall brings more than 20 years of experience in building successful technology businesses. David most recently served as President and COO of Roku, the market leader in streaming entertainment devices for the TV. David has extensive AV industry experience as the former CEO of Avid Technology, Inc., a leading tools provider to the media and entertainment industries, based in Burlington, Massachusetts. Under David's leadership, Avid doubled its revenues to just under $1 Billion annually, introduced groundbreaking new products in its core businesses, and expanded into new markets through organic growth and strategic acquisitions. In addition to his board roles, David currently serves as a strategic advisor to a number of startups, including Roku, Universal Audio, and GrapeGenie.
"Audinate's board of directors is integral to our ability to execute our growth strategy, and having someone with David's industry background as our chair will be a tremendous asset," said Lee Ellison, president and CEO of Audinate. "David Krall's diverse background in developing companies who are in the start-up's high-growth phase, as well as large publically traded companies, will be a major benefit for Audinate moving forward."
"What first attracted me to Audinate was their advanced technology offering, allowing customers to send audio and video signals synchronously across standard IT networks," said David Krall, "but what has impressed me most since joining the board has been the strength of the team behind this offering.  Audinate definitely can compete at any weight class, and I think they have a tremendous opportunity to make a big contribution to this industry."
About Audinate
Audinate revolutionizes the way that AV systems are connected by transporting high-quality media over standard IT networks. Using Audinate's patented networking solution, digital media networking just got easy. Audinate's solution has been licensed by customers across the AV industry and can be found in installations and live sound applications globally. Audinate is a Promoter Member of the AVnu Alliance™. Audinate offices are located in US, United Kingdom and Australia.