Audinate Debuts the Dante Brooklyn II Audio Networking Module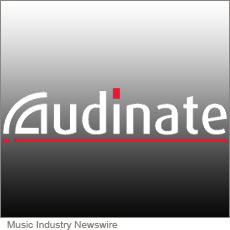 PORTLAND, Ore. (MuseWire) – Audinate, a leading developer of media networking technology, is pleased to announce the availability of its new Dante Brooklyn II audio networking module, a high-performance yet cost-effective product implementation of Dante. The Dante Brooklyn II module is a low-height, small mini-PCI form factor module that provides a complete, ready to use Dante interface for a networked audio product, with the addition of a range of new features and interfaces for even more flexibility of design. Brooklyn II is also designed to be upgradeable to AVB networking standards.
Brooklyn II's new features include the widest sample rate support to date (from 44.1 to 192kHz), up to eight configurable serial audio lines, a range of new or improved module interfaces, including SPI, I2C, serial ports and configurable GPIO, plus a choice of single, redundant or multiport switched Ethernet network implementations, including an AVB-compliant option.
As the latest addition to the Audinate Dante product range, Brooklyn II interoperates with all other Dante devices, including the Dante Virtual Soundcard, incorporating all the core Dante features such as low latency, tight synchronization, and automatic device discovery and system configuration for simple network setup.
Mary Cudmore, Director of Products remarks, "We have a wide variety of customers, with more signing up every day, using Dante in new and exciting audio products and solutions. Our new Brooklyn II module is designed to deliver a rich set of features and functionality that our OEM customers can use to create their own innovative Dante-enabled solution, in a configurable, efficient and cost-effective package."
The Dante Brooklyn II module supports rapid product development by providing all the core networking and control functions needed for products like DSP processors, amplifiers, digital snakes and break?in/break?out boxes. In addition to high performance Dante audio networking functions, the module contains an embedded microprocessor for control functions and allows manufacturers to run applications directly on the module.
Manufacturers can use the Dante control and monitoring framework to easily and quickly develop product specific or vendor specific control functions like gain control and metering on the underlying hardware without having to develop a complete control protocol implementation.