Audinate Dante-MY16-AUD Wins Networking Sound Product of the Year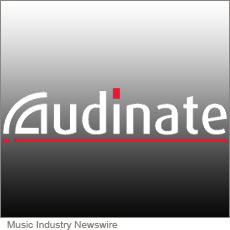 Portland, Ore. (MuseWire) – Live Design has named its 2010-2011 Sound Products of the Year, chosen by a panel of prestigious sound designers. Audinate's Dante-MY16-AUD was selected as their pick for this year's Sound Networking award.
The Dante-MY16-AUD card is a fully compatible Yamaha Mini-YGDAI standard card that instantly Dante-enables a Yamaha console mixer, processor or power amp. Each Dante-MY16-AUD card provides 16 bidirectional audio channels (16 channels at 48 kHz, or 8 channels at 96 kHz) and full Dante network audio redundancy over Gigabit Ethernet. Add more cards to add more channels, and connect to other Dante-enabled audio equipment.
"It's extremely gratifying to be recognized by such a prestigious publication as Live Design for our innovative solutions for the pro-audio industry, but even more rewarding, is seeing how our Dante products help our simplify their designs." Remarked Lee Ellison, Audinate's CEO. "We have been very fortunate to partner with Yamaha for distribution of the Dante-MY16- AUD card. Yamaha has been incredibly supportive to showcase Dante's benefits to its customers"
The Broadway Sound Master Class, which is put on yearly in New York City by Live Design, provides theatrical and aspiring sound designers the opportunity to sit in and listen to presentations by some of Broadway's top sound designers. This year's presenters include Acme Sound Partners, Jon Weston and Jonathan Deans.
Yamaha Commercial Audio supports the Broadway Master Class by sponsoring a number of students to the class every year.
"We are excited that Audinate has been honored with the Networking Sound Product of the Year Award," states Marc Lopez, Marketing Manager, Yamaha Commercial Audio Systems, Inc "Our customers who are using the Dante-MY-16-AUD card have been quite pleased with the Dante technology capability now available for Yamaha digital products."
Audinate delivers a no-hassle, self configuring, true plug-and-play digital audio network that uses standard internet protocols. Audinate's Dante system offers a market leading solution today, while future-proofing implementations by providing a migration path to upgrade to new standards such as the IEEE Audio Video Bridging ("AVB").
The awards ceremonies will be held in conjunction with the Broadway Sound Master Class, will take place on Saturday May 21 at 6 p.m.