Audinate announces European operation, Audinate Limited, based in the UK
Sydney, Australia (MuseWire) – Audinate announced today that it has formed a European operation, Audinate Limited, based in the UK. A significant portion of Audinate's OEM partners and customers are based in Europe and this expansion reflects the widespread industry adoption of Audinate's Dante™ media networking technology. As a result of this new expansion, Audinate has offices in Europe, the USA, and in Australia.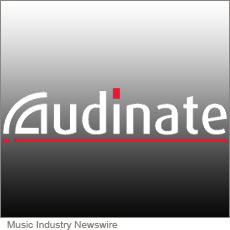 Audinate revolutionizes the way networks are connected by transporting high-quality media over standard IT networks. Audinate delivers a no-hassle, self configuring, true plug-and-play digital audio network that uses standard Internet Protocols. Dante offers a market leading solution today, while de-risking the future by providing a migration path to upgrade to new standards such as the IEEE Audio Video Bridging ("AVB").
David Myers, Audinate's COO remarks, "Audinate has built a reputation as the best digital media networking solution and we are recognized by our customers and partners for our responsive support. As a result of this expansion, Audinate can provide around the globe support for our OEM Partners."
As part of Audinate's direct presence in Europe, Kieran Walsh has joined Audinate as Senior Technical Solutions Manager. Kieran Walsh was formerly with Britannia Row Productions, one of the world's leading audio rental companies. While at Brit Row, Kieran was responsible for the Digital and RF Department. Walsh has worked on some of the largest concert and special event projects including Led Zeppelin at the O2 arena, Nelson Mandela's 90th Birthday concert in Hyde Park London, the Beijing-London Olympic handover ceremony (London segment) and the National Football league (NFL) international series matches at Wembley Stadium.
"We are pleased to have Kieran help our European expansion," adds John McMahon, Audinate's VP of Sales and Support. "Kieran brings a wealth of day-to-day experience of deploying Dante systems for some of the largest events and concert tours over the past few years."
Walsh worked as a sound engineer and producer for a variety of recording projects for clients including BBC, EBU, Sony BMG and EMI. Walsh holds a degree from the Royal College of Music and has performed on a number of world premieres as an orchestral player as well as appearing as a soloist with a number of Orchestras.
"I am looking forward to the new opportunities that Audinate presents," says Kieran. "I have always been impressed with Audinate and look forward to helping a larger audience implement the power of Dante's integrated network solutions."