ASK Video Now Shipping Sibelius Level 2 Tutorial DVD, Offers Bundle Pricing on 2 DVD Set
ONTARIO, Canada (MuseWire) — ASK Video Interactive Media, known for their high-quality DVD training on music software products, has begun shipping Sibelius Tutorial DVD Level 2, The second installment in a series of ultra-high quality DVD courses designed to train composers, musicians, students, and educators on Sibelius.
Sibelius expert Kelly Demoline returns from the first DVD in the series, compelling the user forward on topics such as MIDI Files, Manuscripts, Drum Notation, Playback, Score Layout, Internet Publishing, and more.
Available on Mac/PC DVD-Rom, DVD (NTSC) and DVD (PAL) all in one convenient package, the tutorial contains a total of 24 Videos, encompassing more than 2 hours of instruction on Sibelius 4.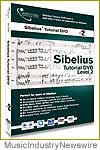 ASK Video offers discount bundle pricing when purchasing Level 1 and Level 2 together. This DVD series is ideal for users that are new to Sibelius or as a great refresher for more advanced users.
System Compatibility:
This product includes QuickTime 7.x Mac/PC which is required for video playback. DVD-Rom drive required. Minimum screen resolution 1024 x 768.
PC: Windows XP Home or Professional, Intel Pentium or AMD Athlon 800 MHz or faster, 256 MB RAM. Windows MME or DirectSound Sound Card.
MAC: Requires Mac OS X v10.2 or higher, Power Mac G4 867 MHz, 256 MB RAM, Sound Card.
Pricing and Availability:
Sibelius Tutorial DVD Level 2 is now available now for $55 USD. Sibelius Tutorial DVD Bundle (Levels 1&2) is now available for $100 USD. Video examples and ordering information are available at http://www.askvideo.com.
About ASK Video
ASK Video Interactive Media is a professional audio/video company based in Ontario, Canada. Well versed in today's cutting edge technology, ASK Video uses high quality video and audio to bring a rich and inviting learning experience to digital audio and video customers around the world through interactive video DVD's.
ASK Video also provides professional audio services from their state-of-the-art studio facility as well as professional video services complete with on-site shooting, editing, and post-production.
[tags]ASK Video Interactive Media, DVD training, music software products, Sibelius Tutorial DVD[/tags]