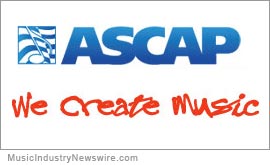 NEW YORK, N.Y. (MuseWire) – The American Society of Composers, Authors and Publishers (ASCAP) today announced the launch of the ASCAP PLAY MUSIC License for Websites and Mobile Apps. Designed to make obtaining an ASCAP license easier and more affordable for individuals and small businesses, the new agreement is available now at www.ascap.com/licensing/digital.
In just three easy steps, owners of qualifying websites and mobile apps can purchase a license online for $240 per year. And with no annual reporting, the license is virtually maintenance free.
"At ASCAP, we want to make it as simple and cost-effective as possible to encourage the use of our members' music," commented ASCAP Vice President of New Media Licensing Matt DeFilippis. "Music adds tremendous value to websites and mobile apps. We're excited to offer a convenient way for individuals and small businesses to benefit from the use of ASCAP music while fairly compensating our songwriter, composer, lyricist and music publisher members."
ASCAP licenses its catalog of over 8.5 million music works to thousands of new and established services, ranging from start-ups to the biggest players on the Internet and mobile platforms, as part of its mission to obtain fair compensation for its more than 450,000 songwriter, composer and music publisher members.
For more information, please visit www.ascap.com.
About ASCAP:
The American Society of Composers, Authors and Publishers (ASCAP) is a professional membership organization of songwriters, composers and music publishers of every kind of music. ASCAP's mission is to license and promote the music of its members and foreign affiliates, obtain fair compensation for the public performance of their works and to distribute the royalties that it collects based upon those performances. ASCAP members write the world's best-loved music and ASCAP has pioneered the efficient licensing of that music to hundreds of thousands of enterprises who use it to add value to their business – from bars, restaurants and retail, to radio, TV and cable, to Internet, mobile services and more.
The ASCAP license offers an efficient solution for businesses to legally perform ASCAP music while respecting the right of songwriters and composers to be paid fairly. With 450,000 members representing more than 8.5 million copyrighted works, ASCAP is the worldwide leader in performance royalties, service and advocacy for songwriters and composers, and the only American performing rights organization (PRO) owned and governed by its writer and publisher members. www.ascap.com