Arturia Jupiter 8V2 Virtual Synth Now Shipping
Meylan, France (MuseWire) – Arturia has announced that the rev2 version of their wonderful virtual instrument recreation of Roland's classic Jupiter 8 analog synth is now shipping. According to the company, "We're truly excited to announce the release of Jupiter 8V2. This amazing soft synth, based on the world famous Roland Jupiter and updated to modern standards with modulation matrixes, effects and more, has received a second make over. Now Jupiter 8V includes Soundmap, our revolutionary preset navigation system, that will allow a unique way to browse through a brand new set of presets made by top international sound designers. A must have for anyone looking for classic 80's anthem sounds."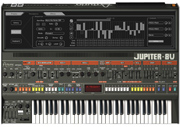 VERSION 2.0 FEATURES:
* A revolutionary preset navigation system called SoundMap
* Ability to use NRPN midi messages for automation
* Presets now respond to modulation wheel
* Fresh batch of presets made by a selection of top sound designers
* MIDI RPN "pitch bend range" message is now recognized
* Increase of overall volume
* New e-licenser (old Syncrosoft) copy protection
* and numerous bug fixes.
MAIN FEATURES:
* More than 400 high quality and innovative sounding presets
* Up to 32 voices of polyphony, and a Unison mode
* A unique audio structure featuring 2 oscillators per voice (16 oscillators in total), 2 LFO's, 2 filters and 2 envelopes.
* Keyboard split and layer
* A set of Analog Sounding Effects: Dual Delay, Phaser, Flanger, all three being largely modulable by any audio source in the synth.
* 2 digital effects, X and Y.
* Additional Live-oriented Step-sequencer, additional Galaxy module for advanced modulations
* Set to Control with your external MIDI keyboard in just a few clicks.
* Full compatibility with major formats and hosts on Mac OS X and Windows XP (VST, AU, RTAS).
The V2 update is a free download for registered users from the Arturia website.