Arturia announces version 2.5 of the Minimoog V virtual instrument, now 64-bit ready
Grenoble, France (MuseWire) – Arturia announces a major update to its classic virtual synthesizer, the Minimoog V. The software recreation of the "Holy Grail of Synthesizers" is now fully compatible with 64-bit hosts. This new version also includes better MIDI control assignment, and a new triangle LFO waveform.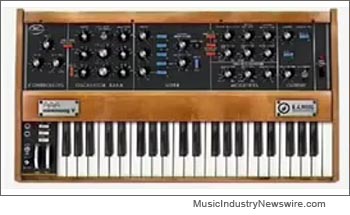 The Minimoog v 2.5 still offers an unchallenged quality of sound thanks to TAE(R), Arturia's proprietary technology for emulating analog circuits.
The 2.5 upgrade is free for all registered users.
Main Features:
* Full compatibility with Cubase 64-bit and Logic 64-bit.
* Support for Pro Tools 9
* Support for Mac OSX 10.5, 10.6 and 10.7 Intel
* MIDI control assignment improved
* New triangle LFO waveform
The upgrade is free for all registered users.
More info at http://www.arturia.com/ .
VIDEO:
http://youtu.be/QuiPd0aB-B0