Arturia announces release of the Prophet V 2.0 virtual instrument
Westlake Village, Calif. (MuseWire) – Arturia has announced the next version of their remarkable cross-breed virtual synth based on the famous hardware boxes from Sequential Circuits. According to the company, "Not only does Prophet V give you perfect analog reproduction of the Prophet 5 and the Prophet VS, it also includes an Arturia exclusive hybrid synth that mixes the two. Version 2.0 is a major upgrade, adding NRPN messages for automation, lower CPU usage, numerous bug fixes and a fresh batch of presets by a selection of our top sound designers; and now includes the Soundmap, Arturia's unique and revolutionary way to explore presets using filters, by sound designer or type, then use the 2D map to morph between them – be a sound traveller."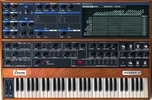 Features:
A revolutionary preset navigation system called SoundMap ( V 2.0 )
New e-licenser (old Syncrosoft) copy protection ( V 2.0 )
MIDI RPN "pitch bend range" message is now recognized ( V 2.0 )
Ability to use NRPN midi messages for automation ( V 2.0 )
Fresh batch of presets made by a selection of top sound designers ( V 2.0 )
Presets now respond to modulation wheel ( V 2.0 )
Double click on joystick resets to center position ( V 2.0 )
Lower CPU utilization on Mac OSX ( V 2.0 )
Windows 7/Snow Leopard officially supported ( V 2.0 )
Vista/Windows 7 compatibility no longer requires UAC deactivation ( V 2.0 )
Three synthesizers in one: Prophet 5, Prophet VS, Prophet Hybrid
All the original parameters of the Prophet 5 and Prophet VS
New audio connection matrix
New modulation matrix switch for the 2 synthesizers
New Chorus and Stereo delay effects
More than 400 presets created by talented musicians and synthesizers specialists.
According to the company: "We have taken the FIRST and the LAST synthesizers created by Sequential Circuitsâ"¢ and brought them to you in an easy to use software instrument format. As with all other soft synths created by Arturia, we bring you replicas of the Prophet-5 and Prophet VS both visually and sonically. Using the PROPHET V will be second nature for the connoisseurs. And if you are new to these synths, the only thing you will miss by not having the hardware versions is the workout from transporting them to the studio. Finally, since the PROPHET V is designed with Arturia's TAE® technology, you can be sure you will not give up sound quality."
V 2 is now shipping, and a free upgrade from version 1.2.1 to 2.0 can be downloaded for registered users from the Arturia website.