Arturia Announces its First Hardware Synth, Origin, at NAMM 2007
LOS ANGELES, Calif. — A year ago, Arturia changed their logo and added the tag line "Hardware and Software." Many people then wondered what it would mean effectively. Well the answer is unveiled today at the NAMM show in Los Angeles: Origin, Arturia's first Hardware synthesizer, is introduced on booth 7013.
Arturia Origin
According to the company: "We are thrilled to announce Origin, a bold proposition for any musician interested in seeking true innovation in the World of synthesizers. Origin is a modular synthesizer for a new generation. It offers a unique sound accessible through an easy to use interface."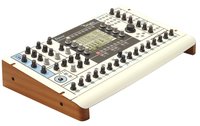 Origin is the first Arturia Hardware synthesizer. It is a modular system of a new generation opening innovative avenues in sound design.
The tabletop unit combines many of Arturia's signature TAE sound technologies, previously found in their respected software emulations of classic analog synth instruments.
Loaded with modules extracted from the best synthesizers of all time (Moog Modular, ARP 2600, CS-80, minimoog and Prophet VS) Origin lets you combine these modules and benefit from the additional possibilities put onboard. The result: a new type of sound accessible through an extremely intuitive interface.
Main features of ORIGIN:
* More than 500 presets created by talented musicians and synthesizer specialists
* Up to 32 voices of polyphony for a typical patch
* Create your own patch or use an existing audio structure: an Origin patch made by connecting independent modules, or the minimoog V, the ARP 2600, the CS-80, the Moog Modular.
* Superb audio quality with TAE(R) engine. 24 bits/96 kHz supported.
* Compatibility with most of the presets from the Arturia Classic virtual Analog synthesizers.
* Origin lets you open dedicated software on your Mac and PC and use it as an AU or VST plug-in. All the sounds are calculated on the machine while you work on your computer as you would do with a native application.
* Analog: 2 audio ins, 10 audio outs. Digital: SPDIF out, USB 2.0
* Large selection of effects: Phaser, Chorus, Delay, FX Reverbs, Distortion, Param Eq, Compressor, Bitcrusher
* 16/32 step sequencer
* Innovative Macro, Advanced LFO, modulation modes, Advanced Joystick modes.
* MIDI : In, Out, Thru or USB 2
More information:
www.arturia.com/evolution/en/products/origin/intro.html
Arturia Jupiter-8V
Also, at NAMM, Arturia has announced the Jupiter-8V, a classy Software recreation of the Roland Jupiter-8, which will ship soon.
Roland's Jupiter-8V was in production between 1981 and 1984. It quickly became a synth of choice for such people as Howard Jones, Moby, Prince or Depeche Mode.
Accorsding to the company, "With the Jupiter-8V, we have done our best to bring you this legend back, staying true to the original design and adding a set of innovative features expanding the orginal sound palette to new heights."
Based on the latest version of TAE(R), the Jupiter-8V also offers a host of modern features: an advanced step sequencer, a new line of dynamic effects, a module combining LFO's (called Galaxy), and "lots more."
Main features of the Jupiter-8V:
* More than 400 high quality and innovative sounding presets
* Up to 32 voices of polyphony, and a Unison mode
* A unique audio structure featuring 2 oscillators per voice (16 oscillators in total), 2 LFO's, 2 filters and 2 envelopes.
* Keyboard split and layer
* A set of Analog Sounding Effects: Dual Delay, Phaser, Flanger, all three being largely modulable by any audio source in the synth.
* 2 digital effects, X and Y.
* Additional Live-oriented Step-sequencer, additional Galaxy module for advanced modulations
* Set to Control with your external MIDI keyboard in just a few clicks.
* Full compatibility with major formats and hosts on Mac OS X and Windows XP (VST, AU, RTAS)
More information:
www.arturia.com/evolution/en/products/jupiter-8v/intro.html
[tags]Arturia Origin synthesizer, Arturia Jupiter 8V soft synth, NAMM 2007[/tags]