Arturia Announces Hip Hop Producer Now Shipping
Meylan, France (MuseWire) – Arturia announces the HIP-HOP PRODUCER, a complete, ready-to-go and ideal solution that will get you started in Hip-Hop music production! A high-quality synthesizer built by Arturia, 4 top-notch Electric Pianos from AAS and a great Hip Hop drum library made by ModernBeats give you all the weapons you need to start producing quality Hip Hop within Ableton Live Lite 8 Arturia Edition, also included in the box.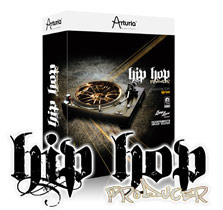 Four products are bundled in one box, four tools for the next generation of Hip Hop legends to pursue their passion:
Analog Factory Hip Hop is a synthesizer offering:
– 250 preset sounds carefully selected from the Arturia Classics collection – The original analog sounds thanks to Arturia TAE® technology
– Polyphony up to 32 voices with Unison possibilities
Ableton Live Lite Arturia Edition offers :
– Maximum of 8 tracks (either audio or MIDI)
– Audio Effects, MIDI effects, Instruments/Racks
– MPC-like sampler included
Lounge Lizard Session offers:
– Four engine presets covering the classic Rhodes and Wurlitzer electric pianos
– High-end effects: tremolo, distortion, chorus, flanger, phaser, vibrato, wah, delays, and reverb
ModernBeats Hip Hop drums:
– From L.A. based sample artists ModernBeats, this custom built sound bank includes more than 1200 Hip Hop drum samples (beatbox, claps, scratch, analog drum machines, acoustic drums) and music loops (Tribal Xplosion).
Great Value: the reference software titles in their respective categories gather to offer the reference Hip Hop solution.
Great Deal: Analog Factory Hip Hop + Lounge Lizard Session + Modernbeatz Hip Hop Sounds + Ableton Live Lite (a non-time limited version of the most successful DAW today).
Great User Experience: One DVD with a single Installation process, one manual holding quickstarts, one single approach toward copy-protection.
More information: http://www.arturia.com/evolution/en/products/hiphop-producer/intro.html .