ARTURIA and the BOB MOOG FOUNDATION are proud to introduce Dr. Bob's Collector Pack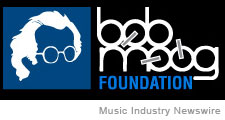 Asheville USA and Grenoble FRANCE (MuseWire) – This luxurious box set includes Arturia's award-winning Minimoog-V and Moog Modular V, a DVD of the Moog documentary, an archival book featuring unreleased material curated by Michelle Moog-Koussa entitled From Bob Moog's Private Archives, and an official Bob Moog Foundation button.
Quantities are limited to 1,000 copies worldwide. Profits will be donated to the Moog Foundation to
benefit their projects and help carry Bob Moog's legacy forward.
To celebrate this event, Arturia is also organizing a contest to win a 1975 Minimoog synthesizer on
their Facebook page at www.facebook.com/arturia2.
"We are delighted to partner with the BMF and bring to musicians Dr. Bob, a pack that will be of high
value to everyone interested in Bob Moog's legacy. Years ago, Arturia was extremely lucky to work
with Bob Moog on the re-creation of some of his most famous synthesizers. Today we are extremely
happy to support the BMF and give a little back, while bringing to the market a great collector box," said Frederic Brun (President of Arturia).
"The Bob Moog Foundation is proud and delighted to share many items from our archives for the oneof-a-kind From Bob Moog's Private Archives booklet included in Dr. Bob's Collector Pack. The items gracing these pages, many of them rarely seen, illuminate pivotal junctures in the rich history of the Moog legacy. From Bob Moog's Private Archives is the first published collection of images from the vast trove of materials that Bob accumulated over the length of his 50-year career; it serves as the ultimate complement to the materials in the Pack. Our thanks to Arturia for highlighting the sonic, historical and human legacy that Bob Moog left for us all to enjoy," said Michelle Moog-Koussa (Executive Director of the Bob Moog Foundation).
Dr. Bob's Collector Pack includes:
• Minimoog-V and Moog Modular-V (V2.0) software instruments
• More than 1,600 presets created by a selection of world-class sound designers
• Moog DVD Documentary by Hans Fjellestad (Multi Region, approx. 120 min)
• From Bob Moog's Private Archives, a 72-page book including previously unpublished
documents by the Bob Moog Foundation
• Bob Moog Foundation official button
MSRP 299 USD / EUR 249