Artists to Perform at 2011 LAMN Jam Music Contests Announced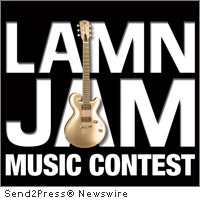 HOLLYWOOD, Calif. (MuseWire) – The Los Angeles Music Network (www.lamn.com) is pleased to announce the artists selected to perform at LAMN Jam Music Contest preliminary rounds. Urban Artists: Sofia Maria, Malik The Freq, Verbs, Andre Delano, Major Myjah. Rock Artists: The Mowglis, Purple Melon, August Rising, SoulSwitch, Marvin Etzioni.
LAMN presents a ROCK and URBAN Music Contest launching June 7, 2011 at the 1616 Club, located at 1616 E. 15th Street in Los Angeles, CA. Please come and support the artists. Round 1 winners move up to the finale in their genre to compete for the Grand Prize. The preliminary URBAN round will be held on Tuesday, June 7, 2011, the Preliminary Rock round will be held on Thursday, June 9, 2011. Three winning artists in each genre advance to the finale on June 14 (Urban) and June 16 (Rock) where they perform again for the Grand Slam LAMN Jam Artist of the Year title and $25K+ prize package.
RSVP NOW at www.lamn.com. FREE to see!
TOP INDUSTRY EXPERTS JUDGE TALENT:
Industry experts and tastemakers to judge talent include American Recordings A&R exec Antony Bland (Avett Brothers, System of A Down, Slayer, ZZ Top, Kevin Devine, The Rocketboys), A&R exec Brian Malouf (formerly RCA, Columbia and Walt Disney Records), RBC Records Partner Brian Shafton (TECH N9NE, DJ Quik, NWA, Snoop Dogg), Assistant Music Director / Morning Show Host, 98.7-FM Darren Rose, Strange Music West A&R VP Dave Weiner (TECH N9NE, NWA, Ice T, Snoop Dogg, Rawkus, Dr. Dre, Geto Boys, Rapalot, Scarface), AEG Live Tour Marketing Director Derek Schaefer, Tour Marketing Director, AEG Live, Interscope Records Erin Dawson (Lady Gaga, U2, La Rouz, Far East Movement, Ellie Goulding, Eminem), radio personality / producer / poet Poetess Media's Felicia "The Poetess" Morris, Angel Diva Music Producer / Artist Development Expert Jan Linder Koda, VP of Label Acquisition and Development, EMI Label Services Jesse Flores (Tyrese, Ice Cube, Raekwon, E-40, Talib Kweli, Jagged Edge, Trina, Twista, Too Short, Lloyd Banks), music publisher Robert Walls (Red Queen Music), Producer Sean Beavan (NIN, Marilyn Manson, No Doubt, System of a Down, Thrice, 8mm), Producer and former executive editor The Source Magazine Soren Baker, Walt Disney Talent Casting & Booking Director Stan Freese (has hired 100,000+ artists at Disney properties worldwide), Stereo Pristine Records A&R exec Tom Zutaut (formerly Geffen/Elektra, GnR, Metallica, Tesla, Enya), Regime Entertainment's Violet Brown (NWA, Dr. Dre, recipient of SOURCE POWER 30 award for 5 consecutive years).
These music executives will be joined by casting director Rayna Apploff from the world of television, who currently seeks talent for a reality television series, and will judge talent.
These experts are hand-picked because they can do something meaningful for an artist's career if they like what they hear. At past LAMN Jams, performers have been signed on the sport (Aunt Kizzy'z Boyz was offered a deal by RBC Records), had their music placed in network television (introduced by talent judge Jan Linder Koda to Fox Sports Executive Producer, artist Krash Karma placed a track with the program), and gotten production deals (like Jody Whitesides).
THE RECORD INDUSTRY'S ANSWER TO AMERICAN IDOL:
Everyone knows American Idol, but LAMN Jam Music Contests feature artists who perform ORIGINAL material, receive CONSTRUCTIVE feedback and PERSONAL attention. LAMN Jams are live A&R.
$25,000 PRIZE PACKAGE + PRICELESS OPPORTUNITIES:
Winners receive an artist development package designed to advance their careers. Finale winners (Rock and Urban) each receive a prize package valued at $25,000+ value including consultation with artist development experts, production, mastering service, gear, software, subscriptions to professional publications, resources, press release service, book-keeping and professional photography session. In addition, winning artists receive career-catapulting opportunities that include first-look consideration by casting director in search of artists for several talent-based television projects and reality series in development now, and a first-look recording and digital distribution deals. More details at www.lamn.com.
2008 LAMN JAM WINNERS:
Urban LAMN Jam winner Aunt Kizzy'z Boyz were offered a deal by RBC Records after performing just 2 songs, were introduced to Taj Mahal to open for his band and were featured in Music Connection's "Top 20 Favorite Signings of 2008." Rock LAMN Jam winner Starving For Gravity played on top L.A. rock station 98.7-FM's Ozolocal Lounge, signed songs to Red Queen Music for exploitation in film and TV and headlined shows in Las Vegas and S. California.
2007 LAMN JAM WINNER REACHES EUROPE:
Aloe Blacc won the 2007 LAMN Jam by a landslide, helping to more than quadruple youth attendance at the LA Public Library which hosted this summer series. You've probably heard his hit "I Need A Dollar" – theme song for the HBO series How To Make It In America – which broke the Top Ten in Europe.
2006 LAMN JAM WINNER HITS BIG TIME:
After winning the 2006 LAMN Jam, Tim Fagan was invited to tour with the Goo Goo Dolls and won the John Mayer Songwriting Contest, co-writing with the multi-platinum songwriter and recording artist. He was invited to tour with Billboard Top 20 artist Colbie Caillat. With Caillat he co-wrote the Jason Mraz duet "Lucky," a 2010 Grammy Winner. Fagan is now a staff writer for Sony ATV Music Publishing.
WE LOVE OUR SPONSORS:
1616 Club, According To What Video Production, Angel Diva Music, Bias Inc. Software, CD Baby, Discmakers, Guitar Center Studios, Medial Local Studios, National Association of Record Industry Professionals, New Financial Group, Planet LA Records, Propellerhead Software, Justin Winokur Photography, Music Connection Magazine, RBC Records, Send2Press.com and Universal Mastering Studios.
RSVP Online Now!
www.lamn.com .