Applied Acoustics Systems announces KitNetix expansion set for Chromaphone Virtual Instrument
MONTREAL, Quebec (MuseWire) – AAS announces KitNetix, their first sound bank title for Chromaphone, and renewing their collaboration with renowned sound designer Martin Walker! KitNetix is a "macrophonic sound bank that zooms into an intricate new world."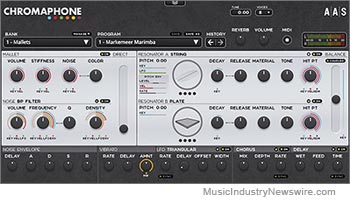 The 128-preset collection features drum kits made from exotic materials, percussion unleashed from reality, soundscapes from dark beginnings to glittering futures, hyper-detailed generative textures, and fantasy hybrid instruments that have never been heard before, including bells, chimes, keys, strings, and pads. Moods cover a huge range, from epic soundtrack projects via weird electronica to gentle ambient minimalism.
The KitNetix sound bank for Chromaphone and AAS Player is available now at $19 (a $20 discount!) until April 1st, 2012 to registered AAS users. To buy, get more information, and listen to a preview of KitNetix, visit the address below.
KitNetix – Chromaphone & AAS Player sound bank
http://www.applied-acoustics.com/kitnetix/overview/ .
About Martin Walker:
By the time he became a professional musician and sound designer in the 1980s, Martin Walker had already been an electronic engineer in radar and then hi-fi, a training manager for Atari, and a software author with a handful of well-received computer games to his credit.
His next seven years were spent on game soundtrack and sound effect commissions, completing over 100 projects across nine computer game formats. By the mid-1990s he had also started contributing heavily to music technology magazines such as Sound On Sound and AudioTechnology, writing columns, reviews and features.
Martin now divides his time between writing, sound design, releasing ambient albums on his own Yew Tree Magic label and occasionally designing or circuit-bending audio projects.