Applied Acoustics Systems announces Chromaphone 2 now supports Native Instrument's NKS plug-in format
AAS' creative percussion synthesizer plug-in—Chromaphone 2—now supports Native Instrument's NKS extended plug-in format.
NKS brings intuitive and seamless interaction between Chromaphone 2 and KOMPLETE KONTROL S-Series keyboards and MASCHINE hardware. Chromaphone 2's key parameters have been mapped in order to provide optimal tactile control of its physical modeling engine. And Chromaphone 2's entire factory preset library now appears in the powerful tag-based browsers of the MASCHINE and KOMPLETE KONTROL software.
Chromaphone 2 is packed with more than 650 presets from the best sound designers. Instruments span from warm and mellow pitched percussions for melodies to punchy one-shots and kits for rhythm tracks.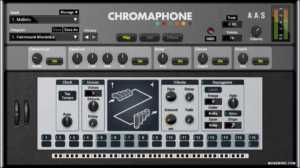 Twisted, they generate unique textures and soundscapes that will move any film score. Whether real, other-wordly, or with an ethnic touch, Chromaphone will fill your music with rich and organic tones.
To mark the release and until February 28, 2017, Chromaphone 2 is at the special upgrade price of $29—a $10 discount. Also part of the promotion, Chromaphone 2's Sound Bank Series titles* are at 50% off. NKS or not, it's a great time to bring back this versatile and eclectic instrument to your collection.
VIDEO (YouTube): "Chromaphone 2 – Acoustic Object Synthesizer – SOUNDSCAPES"