Ambient Deviant Speedmetal Polka: Rock Writing, 1990s to 2010s, Los Angeles – Chapter One: Earplugs and Loose Shoes
Rock music is fun and frightening, uplifting and unsettling, glorious and god-awful.
For longer than may have been wise, I went to clubs at least three times a week, often catching three bands per night. Then I wrote about it. In this introduction, you will find a few highlights among the lowlifes.
Listening to rock music offers a devilish paradox in that you hear it through earplugs. Part of the power of a live rock-and-roll performance is the volume, yet it is that very level of sound that can hurt you. Stand nearby while a band really cranks it and you can be harmed.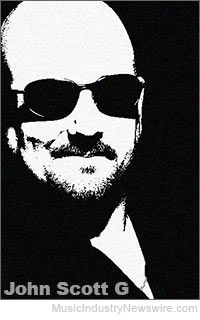 To get a little technical about it, you are slowly eradicating the sensitivity inside your auditory canals. In other words, you're frying your ears. And that's a damn shame considering that your ears are the parts of your noggin that let you dig how well the cats are cooking.
The Dee Bees
Sound volume is measured in decibels (an International Scientific Vocabulary word meaning "holy crap it's loud in here").
A whisper in a library is about 30 decibels (30dB). Talking with a co-worker near the coffee machine puts things up around 65dB. Turn on your garbage disposal and you get 80dB of noise. A power drill generates 95dB, and now you're into an area where prolonged exposure will start killing off some of your hearing.
Take your unprotected ears to a rock concert, which can range from 100dB to 130dB, and your hearing is harmed. Forever. Keep on exposing your ears to this onslaught of sound and you will eventually have to read lips or say "What?" a lot. Or both.
Aural Pleasure Amidst the Pain?
BOOK SERIAL: Ambient Deviant Speedmetal Polka Chapter 1. This is an excerpt from the forthcoming book, "Ambient Deviant Speedmetal Polka: Rock Writing, 1990s to 2010s, Los Angeles" by John Scott G.
Some folks decide that hearing loss is an acceptable price to pay for the glory of rock. When I saw the band called Motorhead perform at a small (400 capacity) club, the volume was outrageous even while wearing earplugs, yet the bass player of a local band called Stone was happily headbangin' near the front of the stage without any ear shields other than his long hair and a whispered prayer. A prayer he was unable to hear, unfortunately.
When the industrial band Front Line Assembly played a Sunset Strip venue called The Key Club, I started moving toward the stage but just couldn't make it. It wasn't because of the shoulder-to-shoulder crowd. Sure, people were packed in like pickles in a jar, but they were deliriously bouncing and jumping so it would have been possible to carom one's way through them. It's just that the sound itself was Way Too Fucking Much, to use a scientific term. The waves of audio were a physical presence that was all over me. If I'm going to experience that kind of thing, the band has to buy me dinner first.
Words About Sounds
I didn't start out to be a rock writer, but some of my early experiences with live music made me want to share the joy. Like when my dad took me to see Benny Goodman. That guy was amazing! So it seemed natural to let my friends know about the exhilaration of swing jazz. One of them contemptuously said, "Aww, go write it in yer sister's diary." I didn't have any siblings, but the writing part seemed like a nifty idea.
I went to see Geronimo Black (a progressive rock band made up of members of the Mothers of Invention) and discovered that the legendary bluesman Lightnin' Hopkins was appearing with them. This was a stroke of good fortune I could hardly believe. It was like buying a nice bottle of wine and finding the cork wrapped with thousand-dollar bills. Afterwards, I knew I could tell a few friends about seeing Hopkins but if I wrote about it, maybe the good news could be spread to even more people.
Magic Moments
There are many experiences with music I wouldn't have missed for any price. The Rolling Stones and Stevie Wonder at the Hollywood Palladium (yes, on the same bill). War at the Shrine. The Beach Boys (with Brian) at the Long Beach Convention Center. Bob Dylan at the Inglewood Forum. David Bowie at the then-roofless Universal Amphitheater. Jeff Beck at the Amphitheater after it got its roof. Joan Jett & The Blackhearts at the Country Club (which became a boxing venue and then a church, although I don't think Joan can be blamed for that). The Kinks at the Santa Monica Civic. Pink Floyd at the L.A. Sports Arena. AC/DC at that same venue, although thankfully on a different night (you don't really want the drug tribes and the alcohol hooligans to mix it up too much).
I saw a whole slew of great bands at the now-long-gone Valley Music Theater, including: The Doors; The Byrds; Love; Iron Butterfly (the original one with vocalist Darryl DeLoach, organist Doug Ingle, bassist Jerry Penrod, guitarist Danny Weis, and drummer Ron Bushy); Buffalo Springfield; and the West Coast Pop Art Experimental Band. (Well, okay, the WCPAEB was not a great group, but their light show was extrafuntasticzowiepow, so for me they get to be called great. Which is probably a first for them, come to think of it, but they gave me a great time so here's a shout-out to Shaun Harris, Dan Harris, Michael Lloyd, Bob Markley, John Ware, Bob Yeazel, and Danny Belsky or whoever was in the group at that point in time.)
And I was at one of the weirdest concert experiences of all time: Frank Zappa and the Mothers of Invention at UCLA's Pauley Pavilion with Zubin Mehta and the Los Angeles Philharmonic Orchestra. The music was wild, wonderful, wicked, and often strange to the max, man. Plus, the audience was a stunning clash of lifestyles the likes of which rarely happens anywhere. Let me just say that blue-jeans and blue-hairs are not the best mix at a half-rock half-classical music event held in a basketball arena.
Rite, Write, Right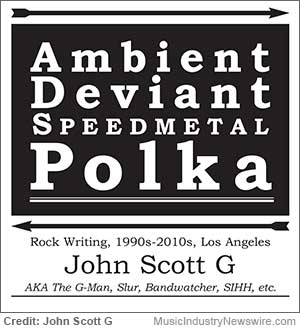 For the most part, I emphasized the positive aspects of the musical experiences I attended. You'd think there would be only happiness and joy in that method, but no: there were publishers, editors, and fellow critics who took issue with my cheerful approach to rock journalism. "Ya gotta write some negative stuff," they would say. "Not everything can be an 'up' all the time," they would say. But my search was for the "up" in music, so that's what I covered.
Besides, the opinions of editors and publishers didn't bother me too much since most of these people were so unknowledgeable about music. (These are folks who file Tower of Power's "What is Hip?" under jazz.) As for my fellow journalists, well, their opinions didn't bother me too much, either, for two basic reasons. First, they thought they were more important than the music, and second, their writing styles were, um, how shall I put this, uh, oh I know: crappy.
(I handle this whole topic in the article called "What's Wrong with Music Journalism?" and you can read it here https://musewire.com/whats-wrong-with-music-journalism-177/ if you're in the mood for some hard facts mixed with some bitchiness.)
Speaking of Bitchiness
Obviously, my opinions may differ from yours, but if I write positive things after seeing the live shows of Miles Davis, Jeff Beck, Davie Bowie, and Joni Mitchell, you can begin to see a pattern: I am able to recognize great talent. So perhaps you can trust me a little when I write about undiscovered artists. Or, as I like to refer to them, monster talents who do not yet attract monster-sized audiences.
About four tons of my music writing was disseminated via a small and scruffy syndication service, and this meant that a lot of my stuff appeared in publications with names like "Rawkin," "Blast Off," "SceneSeen," "Rock Town Report," "Splat" and the like. Being published is cool but wow, some of those magazines would print anything. A typical review would contain lines like this: "I had heard this band was really good and I wanted to find out if they were good and see how good they were and so when I heard they were playing at The Gig in West L.A. I went and heard them at The Gig and they were really good." A rave write-up from such an "author" might be on the order of "The band hit the stage and they ROCKED!!!" The rest of the review would be on that level of insight but with the aforementioned run-on sentences and lotts ov werds mizspelled.
Every once in a while, I would write reviews that parodied that type of scribbling. I'd use a byline like "Slur," "Bandwatcher," or "SIHH" (which stood for Self-Important Hollywood Hipster, or Shit in his Head, depending on your point of view).
From the Vault
After an archeological expedition through my closets, shelves, filing cabinets, and boxes-in-the-garage, I have uncovered a trove of old reviews that will slowly but inexorably be made available for your amusement.
Notice I did not say it was a treasure trove. Just a regular trove.
And by amusement it is certainly understood this may be similar to eighteenth-century audiences attending a bear-baiting. Still, I believe you are likely to discover some turns of phrase that will bring a smile.
In addition to those already mentioned, here are some of the people, artists, groups, and bands you're likely to encounter in this collection: Buckethead, Regina Carter, Wendie Colter, Dixie Dregs, Eight-and-half Souvenirs, Flesh for Eve, Grasshopper Takeover, Hellecasters, Idol Worship, Daniel Lanois, Cecilia Noel, The Otterpops, Blues Saraceno, Sinboy, Sonia Dada, Ronkat Spearman, Jillian Speer, Stoney Curtis Band, Larisa Stow, The Toledo Show, Derek Trucks, Velvet Chain, and more. Many more. And you may just get to see a write-up of an evening of Hawaiian Slack-Key Guitar at UCLA, although I'm not promising anything. After all, I'm not going to just post these things without editing. There will be a fair amount of redacting, rewriting, rewording, rethinking, and revising, all in order to avoid regretting.
Words of Warning
For those of you who are thinking of entering the world of Los Angeles clubs as a reviewer, listener, or performer, I have some extremely valuable advice for you: be sure to bring earplugs and a shipload of patience for dealing with horrendous traffic, worse parking, smelly venues, overworked staff, idiot club owners, crooked promoters, sticky floors, and icky restrooms. You'll also need to maintain a strong tolerance for bad lighting, oppressive sound, overpriced drinks, and patrons who are drunk, stoned, and/or schizophrenic. One more thing: you'll be standing around a lot so don't wear tight shoes.
Come Along, Why Doncha?!
Writing about music is an off-kilter profession that has been compared to dancing about architecture or knitting about sculpture. Or perhaps playing word percussion in a tub of honey. But it's fun for the writer and can be a trip for the reader, so I hope you'll make this journey with me.

» READ MORE Ambient Deviant Speedmetal Polka
Also note, some chapters of ADSP actually live on here: https://musewire.com/topic/ambient-deviant-speedmetal-polka/.
BOOK SERIAL: Ambient Deviant Speedmetal Polka Chapter 1.
Excerpt of book serial "Ambient Deviant Speedmetal Polka: Rock Writing, 1990s to 2010s, Los Angeles" is Copr. © 2012 by John Scott G – all commercial and reprint rights reserved. Originally published on MusicIndustryNewswire-COM before moving to its permanent home here on Ga-Ga.com. Gradient cover illustration © by Christopher L. Simmons.