Alkex Instruments Now Shipping Professor 5 MIDI Controller
LOS ANGELES, Calif. (MuseWire) – Los Angeles based Alkex Instruments has started shipping their new MIDI controller designed to interact with Arturia's Prophet V virtual instrument (and other plug-ins using set-up application). The unit has been designed to look familiar to any Sequential Circuits owner, or fan, with a similar design to the knobs and buttons, and hand-finished hardwood enclosure.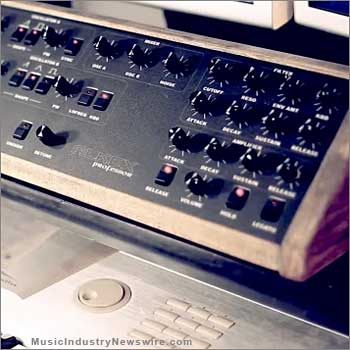 Described by the company, this way: "Take control of the virtual instrument you already know and love with our beautiful hand-crafted MIDI controller. THE tangible solution for virtual instruments!"
With an MSRP of $499, an introductory price of $399 and a few units being sold on eBay at slightly lower price to get the customer base going, the "Professor" features include: MIDI in and out, built-in USB-MIDI interface, optionally USB bus powered, control of 52 parameters, included power supply, and 5-year warranty (2-year warranty in the brochure).
It has 27 rotary dials, 25 switches, 27 LED indicators, and is entirely re-mappable via included software.
Length is 23-inches in length, 5.5 inches high, and 5-inches deep.
Because each unit is hand-built by company founder "Alex" the wait time is from 7-10 days to have one custom built.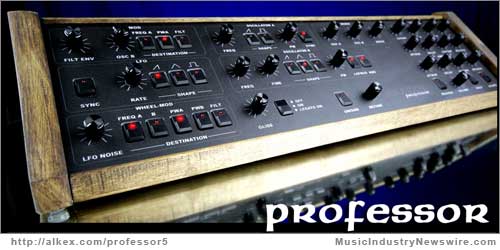 More information can be found at: www.alkex.com .
Look for a review next month, as Christopher Simmons of MusicIndustryNewswire.com has one on order in mid July.
VIDEO: