Alesis announces Cadenza, an 88-key hammer-action digital piano offers genuine piano performance plus digital piano connection to Mac, PC or iPad
CUMBERLAND, R.I. (MuseWire) – Summer NAMM 2011 — Alesis, the world's leading manufacturer of professional audio equipment and studio electronics, announces the Cadenza digital piano. Alesis will exhibit the Cadenza at Booth #400 at the 2011 Summer NAMM show from July 21st- 23rd in Nashville, TN.
The Cadenza is an 88-key, hammer-action digital piano. Musicians will appreciate its sound, feel and performance features that they can use to bring their musical ideas to life. The Cadenza's 88 hammer-action keys equip players with a full range of musical expression, enabling them to play any piano piece. Musicians will enjoy the Cadenza's eight, stereo instrument voices, including Grand, Upright, Electric, Strings, Organ and more. Musicians can enjoy the Cadenza's Split function, which divides the digital keyboard into two different sounds of the player's choosing, such as left-hand piano and right-hand strings. The included sustain pedal enables further expression.
Creative players can add chorus and reverb effects, and fine-tune treble and bass controls. Experienced pianists can even customize the Cadenza's touch sensitivity for the response that suits their playing style.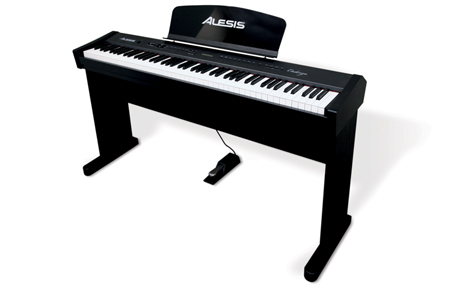 Pianists can play along with their favorite songs by connecting a CD or MP3 player through the Cadenza's 1/8-inch stereo auxiliary input. A MIDI Input jack enables playing the Cadenza's sounds using an external keyboard, and a MIDI output jack empowers players to use the Cadenza's digital piano keyboard to perform with any MIDI-compliant sound module or instrument. Plus, the Cadenza's USB MIDI jack connects directly to a Mac or PC so players can work with virtually any music software on Mac and PC.
And with Apple's USB adapter, players can even connect the Cadenza to their iPad or iPad 2 and play using Core MIDI-compliant apps.
Built-in stereo speakers and a compact, wood-grain frame make the Cadenza the perfect choice for those who want a digital piano that takes over a room with its sound – not its size. For completely silent practice at any hour, players can plug in headphones and silence the speakers.
"The Cadenza delivers an expressive, natural piano experience, silent practice, and connection to Mac, PC and iPad," said Dan Radin, Alesis Product Manager. "At a fraction of the size, weight or cost of traditional pianos, the Cadenza is a wonderful choice for every home."
For more information about the Cadenza, a new digital piano, please visit http://www.alesis.com/cadenza .