ADAM Monitors Gain Wide Adoption in Academic Music Schools
WESTLAKE VILLAGE, Calif. – Academia has long been synonymous with the search for truth. This not only applies to the likes of history, law, and physics, but also to the craft of recording, producing, and performing music. ADAM Professional Audio is quickly becoming the speaker of choice for teaching students about the importance of "truth" in audio education.
At the Center for Computer Research in Music and Acoustics at Stanford University, Jay Kadis employs a variety of ADAM monitors throughout the department. This includes an eight-channel concert surround system consisting of S3A and P22A mid-field monitors and composition studios housing the new A7 near-field monitors.
"The ADAM loudspeakers reveal exactly what's there in a mix. Having become used to such quality in a monitoring system, students are aware of the quality of their listening environment," remarks Kadis.
Doug Olsson, chair of the Recording Department at the Madison Media Institute comments that "We try and expose our students to a wide range of industry-standard equipment. As such, they have the opportunity to work on a variety of monitors. ADAM fills the high-end, flagship niche for us. This is something we feel is really important, since the ADAMs are so much more transparent and accurate than many of the commonly-used speakers out there. We want to send well-rounded graduates out into the marketplace, so experience with a first-rate speaker is essential."
When most people think of music schools, the name Julliard is often the pinnacle of music conservatories. Even though Julliard doesn't have a recording department, the adoption of ADAM loudspeakers is a significant comment on their extraordinary transparency and truth.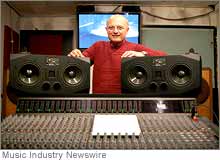 Bob Taibbi (shown in photo), who uses ADAM S3A's for documenting all of the concerts and recitals at Julliard, said "With Classical music, it is very important to be able to hear things that are going on, what I call 'behind the music'. So many elements, room or hall ambiances for example, contribute to the overall sound quality of our recordings. I find that the ADAM's give you the advantage of hearing everything that is being picked up allowing you to have a clear picture of what you are actually recording."
The message from those in academia is clear: The ADAM Professional Monitors reveal exactly what's there in a mix. And whether recording the Julliard Symphony, or learning the craft of recording, ADAM provides students with the "truth" needed to make accurate decisions.
For more information, please visit:
http://www.adam-audio.com
http://ccrma.stanford.edu
http://www.madisonmedia.com
http://www.juilliard.edu
About ADAM Audio
With headquarters in Berlin, Germany and offices around the world, ADAM Professional Audio produces a complete range of audio monitoring systems to suit any given studio environment, from the smallest home/project studios to the most demanding professional environments and applications. ADAM studio monitors are state-of-the-art, no compromise speakers intended for audio engineers who are interested in the truest possible reproduction of their recordings.
All trademarks and registered trademarks are property of their respective owners.
[tags]ADAM S3A loudspeakers, Bob Taibbi, concerts and recitals at Julliard, Doug Olsson, Recording Department, Madison Media Institute, Center for Computer Research in Music, Jay Kadis[/tags]