ADAM A7 Monitors Make Broadcast Market Debut at NAB
NAB 2007 – Las Vegas — ADAM Audio, a leading provider of top quality professional audio reference monitors, announces the NAB debut of its A7 near-field monitor. This active, 2-way reference tool offers broadcast engineers, production directors, producers, and talent the most accurate audio reproduction available today.
The A7 is built around the same unique technology found in every ADAM monitor. Dubbed Accelerated Ribbon Technology, or ART, it uses a pleated diaphragm and magnets to move air with unmatched precision. The result is a tweeter that is remarkably natural, yet startlingly accurate.
Paired with a 6.5″ carbon fiber woofer, and bi-amplified with 2x50w onboard amplifiers, the A7 creates a lush soundstage with the same left-to-right and front-to-back imaging ADAM is known for.
Magnetically shielded, this compact enclosure is perfect for production rooms, TOCs, and air studios. It is invaluable in video editing bays, mobile broadcast units, and audio for broadcast television. Five A7s with the companion Sub 8 make an excellent 5.1 system for HD radio production, and final assembly of broadcast video.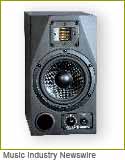 The A7 is creating a lot of excitement in the pro studio and post-production worlds. Now that ADAM is officially introducing it to the broadcast market, anticipation is rising among key players interested in tools to help their stations sound better on the air.
ADAM is showing 3 other models at NAB 2007. The passive ANF10, a 7″ 2-way, is the retrofit answer for studios with an existing power amp and speaker wiring. The P22-A, an active, 9″ 2-way with 2x100w amplifiers, delivers deep, punchy low end for more aggressive production needs. The S2.5A represents ADAM's premium S series line. It employs a 9″ Hexacone(R) woofer, driven by one of two 250w ICE Amps to deliver articulate, balanced, full-range reproduction from 34Hz to 35kHz.
N4933 is the booth number at NAB 2007.
For more information or to find an ADAM dealer visit http://www.ADAM-Audio.com.
[tags]ADAM A7 Monitor, Accelerated Ribbon Technology, NAB news[/tags]