WhiteOut Edition of 61-key Access Virus Ti Keyboard Announced
Recklinghausen, Germany (MuseWire) – Access Music has announced their latest "special edition" keyboard, "The WhiteOut Keyboard" limited edition, which will only be produced as 150 units with laser engraved serial number. If your favorite Virus Ti is the Polar edition, but you always wanted a "bigger" model, now you can get one (if you hurry).
According to the company, "White metal, wood and aluminum are the main ingredients for the WhiteOut's signature look. Perform with a Virus TI WhiteOut and you can be assured that your presence on stage will not fade into the background."
The technical specifications are identical to the Virus Ti Keyboard 2009, the color scheme of the housing does differ as you can see (see photo).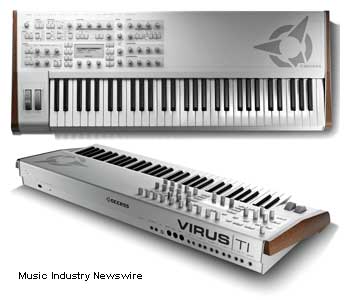 This is the second part of the Virus TI WhiteOut limited edition. The first part was a white Virus TI Desktop which we've released around Christmas. All units sold in a day.
In the U.S., dealers like Sweetwater, and NovaMusik are taking pre-orders, with a street price of $2999. Although the non-white "normal" models can sell below MAP pricing, you likely won't get as much of a discount on the Whiteout edition unless you have an existing sales relationship with your music dealer.
I had a Ti Polar (first version) and sold it to buy the rack mount/desktop model. I have missed the Polar ever since. This new 61-key model is even cooler (no pun intended), since there is plenty of room on top for a PC keyboard, Korg pad and external knob controller, etc. Gorgeous!
More information and a complete PDF brochure can be downloaded from this page (in English): http://www.access-music.de/page/render/lang/en/p/136/do/Virus_TI_WhiteOut_Keyboard_Limited_Edition.html .