49th Annual ASCAP Country Music Awards to Be Held Sunday, Nov. 6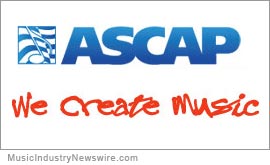 Nashville, Tenn. (MuseWire) – ASCAP (the American Society of Composers, Authors and Publishers) will stage its 49th Annual Country Music Awards on Sunday, November 6, 2011 at Nashville's Gaylord Opryland. The invitation-only event will honor the songwriters and publishers of ASCAP's most performed country songs from April 1, 2010 through March 31, 2011. The Sunday night celebration marks the start of a busy week leading up to the CMA Awards.
"We are thrilled to be honoring the songwriters, publishers and artists behind the biggest hits in country music at one of Nashville's treasured venues, as the much-loved resort gets back on its feet," said Tim DuBois, Vice President and Managing Executive, ASCAP Nashville.
The 49th Annual ASCAP Country Music Awards will include the announcements of the Songwriter of the Year, Songwriter/Artist of the Year, Song of the Year and Publisher of the Year. The evening will feature performances by several award-winning songwriter/performers.